Group Classes API Test
Currently, all classes will have a maximum of 9 people per class and a minimum of 3 for the class to be held. Students are required to pre-register and pre-pay to hold your spot. Masks will be worn unless there is enough space for social distancing. All classes, with an exception of Nosework on the Road and Manners in the City, are held indoors in our climate-controlled space on matted floors. Class schedule is subject to change depending on demand and trainer availability.
We work with all breeds starting as early as puppies. The earlier a dog begins familiarizing with the sights, sounds, and activities of the human world, the easier the dog is to work with throughout its lifetime. Without proper training and socializing, more puppies lose their homes to shelters and rescues before their first birthdays.
---
Current Classes
Monday
Tuesday
Wednesday
Thursday
Friday

Manners 101
7:15pm Class
7 weeks
Cost $100

Manners 102
6:00pm Class
7 weeks
Cost $100

Rocky's Class (Open & Utility)
1:00 pm
7 weeks
Cost $100

Nose Work on the Road
6:30pm
6 weeks
Cost $120

Kids Club
Details To Be Announced Soon!

Service Dog Task Class Next Class Begins in February
5:30pm
7 weeks
Cost $100.00

Conformation To Be Announced Soon!
5:30pm
weekly
Cost $10

​Canine Good Citizen Next Class Begins in February
5:30pm
7 weeks
Cost $120

Agility - All Levels
6:00pm
6 weeks
Cost $120

Beginner Nose Work
6:00pm
6 weeks
Cost $120

Intermediate Nose Work​
7:15pm
6 weeks
Cost $120

Intro to Barn Hunt
6:00pm
4 weeks
Cost $120

Barn Hunt Practice To Be Announced Soon!
7:00pm
1st & 3rd Friday of each month
Cost $20/dog
Saturday, private lessons by appointment, special events
Sunday, special events
---
Manners & Puppy Obedience
Manners 101
Cost: $100
Learn basic behaviors such as attention on name, sit, down, stand, come, walking on a loose leash, stay, leave it, drop something from the mouth, and go to place. Behavior problems will be addressed as needed. Dogs will learn manners around other dogs and people.
This class gets you through the phases of normal puppy development where the youngster starts testing his environment, looking for independence, asserting himself, or perhaps becoming fearful and suspicious of people, places, objects, or situations that once seemed comfortable.
Manners 102
Cost: $100
Prerequisite: Manners 101
We continue to expand on lessons taught in Manners 101. Incorporating new sights, sounds, movements, people, and situations into your puppy's log of experience puts you and your pup on the road for a long and happy life together. Behavior problems will be addressed as needed. Puppies will be given the opportunity to socialize with both other puppies and people.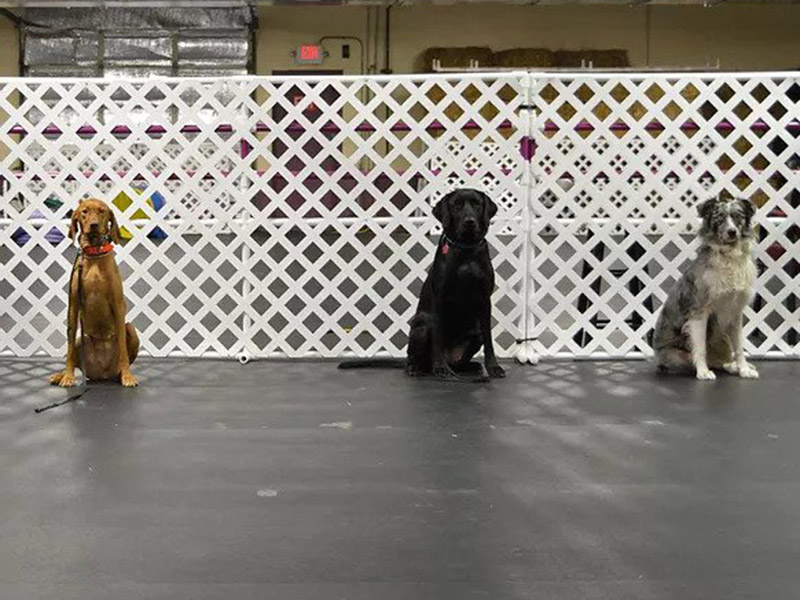 ---
Therapy, Service, & Canine Good Citizen (CGC) – Combined
Cost: $120
Prerequisite: Manners 102
This class prepares your dog to pass a standardized therapy dog test which will enable you to volunteer wherever therapy dogs are welcomed. Therapy dogs are traditionally found in hospitals, rehabilitative facilities, hospice and nursing homes. Additionally, libraries and schools encourage visiting therapy dog teams which educate children about pet care and safety and offer the opportunity of participating in the National Kids Read Program.
This class will also review the exercises needed to earn the AKC Canine Good Citizen (CGC) certificate. Please see the AKC web site for more information on the CGC certification program.
Actual CGC and therapy dog testing will be offered to all class graduates on a quarterly basis. For those new to class, you are required to provide a prescription from your doctor stating that a service dog would help mitigate your health issue.
---
Advanced Obedience Classes
Piper's Class
Exercises covered will include stand for exam, figure 8, out of sight stays, drop on recall, broad jump, retrieve on the flat and retrieve over the high jump, along with reviewing novice exercises.
Competitive Obedience
Exercises covered include heeling, stand for exam, figure 8, out of site stays, drop on recall, broad jump, retrieve on the flat, retrieve over the high jump, scent discrimination, directive jumping, and signals.
Rocky's Class
Cost: $100
Exercises covered include signals, directed jumping, glove retrieve, scent discrimination, and the moving stand, along with reviewing the open exercises.
---
Agility Classes
Agility is a wonderful activity and sport for those looking to give their pet more exercise, build confidence, coordination, and improve your relationship. Truly about teamwork, agility provides a challenge for both dog and handler alike.
Beginning Agility
Cost: $120
You and your dog will be safely introduced to agility equipment in a positive and fun manner. We'll begin slow and low - building upon each success, with lots of positive reinforcement for trying new things. Designed with young, growing bones and joints in mind. Everything is low impact as we build up the pup's confidence, coordination, and ability to focus.
Intermediate Agility
Prerequisite: Beginner Agility or Instructor Approval
Cost: $120
Owners and dogs have gained confidence and some control on the equipment running short sequences, and off-leash skills. We will begin to learn Handling Skills required for more difficult courses and continue to improve your communication system and teamwork in order to handle more challenging sequences. We welcome students looking to give trialing a try and those learning for fun with their dog.
Advanced Agility
Prerequisite: Intermediate Agility or Instructor Approval
Cost: $120
As a team, you and your dog are past the basics and have the skills. You're ready to add finesse to your performance and all the skills you two have developed together up until now.
---
Conformation
Cost: $100
You and your show dog learn together how to get the most out of your presentation before the judge. Kim Cardona has years of experience teaching the techniques for bringing the judges' attention your way! Regardless of what breed you have, the skills for showing the best side of your dog, and building the handlers confidence, grace, and poise in the show ring are the same. Private lessons can be scheduled on Tuesdays and Wednesdays between 2pm and 5pm.
---
Rally Class
Prerequisite: Manners 102
A fun, thinking sport for any age dog and handler! Rally encourages lots of positive interaction and praise for your dog. Moving together, you and your dog have fun negotiating the course layouts designed by the rally judge, while also building useful obedience skills. All done in a fun, social atmosphere! A recommended class for teaching obedience in a format that avoids the drilling of 'standard' obedience classes. As a sport, it also adds the option as a competitive outlet with titles and recognition! The class will teach the skills needed for the AKC, UKC and ASCA Rally titles. Rules and regulations and handling tips will be covered.
---
Junior's Class
4H Class
Students from ages 8-18 are introduced to obedience, rally, agility, and conformation. In addition, canine behavior and health are covered. Dream Catchers 4H Club holds classes Tuesday nights at 6:30pm following the Polk County School Board academic calendar.
Competition Skills: Young Guns
Build skills in healing, jumping, retrieving, recalls while addressing common handler errors, human competition skills needed to assist the dog while competing. This class will help build a strong foundation so that dog and handler may enter the ring with a "can do" attitude. Open and utility skills will also be introduced.
Our goal is to provide the necessary support to junior competitors to build the confidence needed to compete in AKC events with the expectations that they will be able to perform to the standard necessary to earn a leg and title.
---
Nosework
Intro to Nosework
Cost: $120
Training your dog when to use his nose is also helpful for teaching your dog when it is not the time to use his nose. Useful for teaching focus and attention for general obedience and other sports. The three scents used in this sport are Birch, Anise, and Clove. Dogs will be introduced to Birch in this class. The scents are hidden in boxes, the boxes are set out in a 'pattern' and the dog learns to alert the handler when each scent is detected. The dog will be introduced to container searches, indoor searches, outdoor searches and vehicle searches.
Advanced Nosework
Dogs will be introduced to Anise in this class and will increase the difficulty of container, indoor, outdoor and vehicle searches.
Nosework on the Road
Cost: $120
Dogs have been introduced to multiple scents. They are working on indicating those scents in different locations including container, indoor, outdoor and vehicles.
---
Barn Hunt
The Barn Hunt Association, LLC has created a sanctioned sport honoring the traditional role of dogs in ridding barns, homes, and properties of vermin. This fun sport is open to any dog, of any size, type, breed or mix that can fit through an 18″ wide through approximately 22″ high tunnel. In Barn Hunt, you can earn titles and placements at levels from Instinct through Master, and Championships beyond Master.
Intro to Barn Hunt
Cost: $120
Barn Hunt Practice
Cost: $20/dog
---
Tricks Class
AKC has recently introduced a tricks title! In this class, your dog will learn a broad spectrum of tricks, from helping out around the house to a favorite party trick. This class is for any dog owner who wants a closer connection with your dog with some fun!
---
---
---